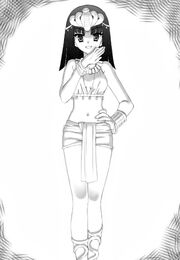 She originally kidnaps Aria in hopes of becoming the next leader of the IU after proving to the Professor she is the strongest. She hates all men, except Kinichi Tohyama, whom it is suggested she is in love with.
She kidnaps Aria, and Kinji and Shirayuki set out to save her using a modified torpedo sub built by Mutou. Patra then engages in combat with Shirayuki who dual wields, Durandal and Irokane Ayame in order to allow Kinji to rescue Aria. Aria then destroys the pyramid with Hiten Hiyoumon, a technique of the Hidan, which cuts off Patra's power.
Hilda Arc
Edit
Patra decided to side with Grenada in Volume 8. She attributes her reason for this was due to a personal hatred of the IU's honor students of Daio.
American Arc
Edit