Updates
Recent Light Novel Volume
Volume 28 - Coral Reef of Unexpected Island
---
Coral Reef of Unexpected Island is the twenty-eighth volume of the Hidan no Aria novel series released on May 25, 2018. This novel continues the N arc.
Recent Manga Volume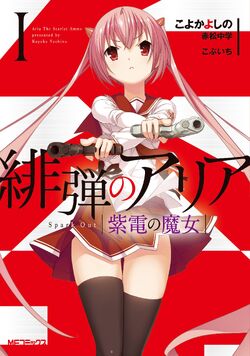 Spark Out
---
Aria the Scarlet Ammo Shiden's Witch I: Spark Out is the continuation of the Hidan no Aria series released on May 23, 2018. This volume is based on the events of Volumes VII and VIII of the light novel series and contains chapters 1-6.
Recent Anime Episode
Featured Article
Shirayuki Hotogi
Shirayuki Hotogi is a shrine maiden, an A-rank Butei of the SSR department, and the childhood friend of Kinji Tohyama, who she is obsessively in love with. She is the Student Council President of Butei High in addition to various other clubs. Also, Shirayuki has a natural affinity for divination and fortune telling. She is usually very calm, reserved, and shy to some degree and often can be viewed as a Yamato Nadeshiko, "the idealized Japanese woman." However, Shriayuki's extreme obsessiveness and loyalty to Kinji causes her to get easily jealous when other girls are involved with him leading to her killing intent taking over becoming a dark person he calls Kuroyuki.
(More)
Who is your favorite maiden of the series?